We offer 4 guided canoe and kayak trips on the Ocklawaha River:
Ocklawaha River: Silver River – Gores Landing (see description below)
Ocklawaha River: Below the Dam
Ocklawaha River: Below the Dam
Group size: 1 – 24 people.
Trip length : 4 – 4.5 hrs.
Skill level: Great for beginners and experts alike.

Cost
Most guided tours are $50 per person. (includes boat, paddle, vest, shuttling and your guide)
Using your Own Boat – $40. (many paddlers with their own boats like to join us to learn more about the history, archaeology and natural history of these rivers).
Dates
Join a scheduled tour (see tour calendar ), or suggest one.  Find a free date on the calendar and suggest the trip of your choice. If there are no conflicts, we'll post it!
OR
Schedule a private tour. Use contact form, email us at [email protected] or call (386-454-0611)
Location
Check the River Locator Map or Click the link below for a local map and then use zoom and panning arrows to explore the area. (Note: the marker is NOT our meeting place, but a nearby landmark.
Local Map
Description
The Ocklawaha is wider here than above the reservoir and much more braided. Many side streams and confusing forks make this an interesting area to explore, but can turn a leisurely paddle into an extreme workout if you make a wrong turn. You won't want to get to far ahead of the guide on this trip.
Sydney Lanier, a well-known writer of the 1800's, called the Ocklawaha the "sweetest water-lane in the world, a lane which runs more than a hundred and fifty miles of pure delight betwixt hedgerows of oaks and cypresses and palms and bays and magnolias and mosses and manifold vine-growths…" Unlike so many early descriptions of wild Florida, which are merely frustrating glimpses into long lost worlds, this passage could have been written today. And, aside from the fact that he was sitting on the deck of an Ocklawaha steamboat, Lanier's instructions on assuming the "attitude of perfect rest" could just as easily be followed by the kicked-back, modern day kayaker. He suggested you hike your left leg onto the boats railing, "then tip your chair in a slight diagonal position back to the side of the cabin,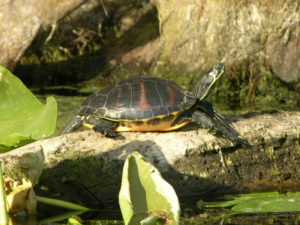 so that your head will rest thereagainst, your right arm will hang over the chair back, and your left arm will repose on the railing. I give no specific instruction for your right leg, because I am disposed to be liberal in this matter and to leave some gracious scope for personal idiosyncrasies,…dispose your right leg, therefore, as your heart may suggest. Having secured this attitude, open wide the eyes of your body and your soul; repulse with a heavenly suavity the conversational advances…" of others, "then sail, sail, sail through the cypresses, through the vines, through the May day…and so shall your heart forever afterwards interpret Ocklawaha to mean repose." I can't count the times I've rounded a bend of the Ocklawaha, and found someone in our group laid back in their kayaks, in the "attitude of perfect rest." It's the perfect river for "repose".
This is the Ocklawaha that Pulitzer Prize winning author Marjorie Kinnan Rawlings knew and loved. And it's the Ocklawaha to which some of Florida's most celebrated musical troubadours, including the late, great Will Mclean and Don Grooms, retreated when the press of civilization became unbearable.
The wide open channel on this part of the river offers an excellent panorama of river forests and swamps that in places, stretch a half mile back from the main channel. Here, we find the usual menagerie of wildlife that love such places. Cormorants and anhingas swim in the tannin stained brown water, catching small fish, while several species of wading birds tiptoe slowly through spatterdock, pickerelweed, water hyacinth and cardinal flowers at the rivers edge, stalking small fish, reptiles, amphibians and small crustaceans.
Other animals we frequently see are alligators, turtles and snakes, usually basking contently on a sunny log. Otters live here too, and while they're very shy, the observant paddler will often spot one diving for fish along the rivers edge. The forest floor of these heavily shaded woodlands are low and damp, making them prone to flood in heavy rain events (including hurricanes!) – great for wildlife, not so great for human habitation. Except for a couple of isolated homes, perched at a distance from the river, we see very little sign of civilization on this trip.
Occasionally, the winding channel carries us close to the high piney bluff which borders much of the river basin. This steep bluff, formed by an uplift fault during an earthquake millions of years ago, marks the northern edge of Florida's famous sand pine forest – the 'scrub.'
This trip will appeal to people with a variety of interests. As history buffs dream of Acuera warriors and the steamboats which once once plied these waters, birders and animal lovers will be getting a lot of use out of their binoculars and cameras. And if you, like myself, are fans of Marjorie Rawlings, this trip will give you a chance to explore a remote section of Florida that remains much as it did when she stayed nearby at the Fiddia homestead.
In addition to it's scenic beauty, this stretch of the Ocklawaha also serves as an excellent 'living museum' of man's 12,000 year relationship with nature in Florida. As we make our way downstream, we work back in time – starting with our launch at the George Kirkpatrick Dam, where we see man's most recent (and most destructive) attempt to 'tame' the river, we paddle past a couple of old steamboat landings before stopping for lunch at a large Indian burial mound.
Difficulty
This is an easy paddle on slow, tannin-stained waters. There is plenty of water here so you won't have to pull over any shoals or shallows. There are a few tricky forks so you won't want to get too far away from the guide.