Group size: 1 – 24 people
Trip time: 3 – 3.5 hours
Skill level: Beginner (in good physical condition) – Expert
Cost
Most guided tours are $50 per person. (includes boat, paddle, vest, shuttling and your guide)
Using your Own Boat – $40. (many paddlers with their own boats like to join us to learn more about the history, archaeology and natural history of these rivers).
Dates
Join a scheduled tour (see tour calendar ), or suggest one.  Find a free date on the calendar and suggest the trip of your choice. If there are no conflicts, we'll post it!
OR
Schedule a private tour. Use contact form, email us at [email protected] or call (386-454-0611)
Location
Check the River Locator Map or Click the link below for a local map and then use zoom and panning arrows to explore the area. (Note: the marker is NOT our meeting place, but a nearby landmark.
We're usually on the water about 3.5 – 4 hours. With a flow rate that varies from 300,000 to nearly a billion gallons per day, Wakulla ranks as one of the largest (and perhaps most variable) springs in the world (rivaling Silver Springs, where the maximum flow has never been as great as Wakulla's maximum, but the daily average is greater). With its rich, colorful history, especially at the old fort ruins where our trip ends, Wakulla ranks as one of the all-stars of Florida's spring rivers.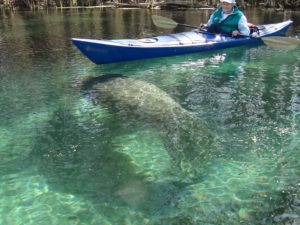 Come here during warm months from April through November and you might spot some manatees. In the past, they all moved southeastward in the fall to spend winter in the springs of the Suwannee and the central Gulf Coast. However, in recent years, a few manatees have remained at the head spring to ride out winter bathed in the springs relatively warm 71 degree water.
Wading birds like Wakulla's wide, shallow channel as do many turtles and gators. We usually see osprey and, especially in winter months , bald eagles. Until the last decade, limpkins were important members of this river's wild community. But In recent years, except for one possible sighting I heard about last year (not confirmed), they've been notably absent. The fact that these birds are very sensitive to pollution—both directly and indirectly through pollution-sensitive apple snails, their favorite food—makes their absence especially troubling. Correction; alarming!
This river's written history began with Florida's first explorer, Panfilo de Narvaez, whose ill-fated expedition ended here in 1528. It was also here that Narvaez racked up a few other firsts—first recorded horse meat dinner in Florida since the Paleo-Indians (horses evolved in the New World but were extirpated here thousands of years ago, finally returning with Spanish conquistadors on their backs); first boat made by white people in North America (made from horse hides); first recorded maritime disaster off the coast of Florida Panhandle (horsehide boats work better on diagrams than on water). Narvaez didn't survive the ordeal but a few others did. When Desoto's men arrived eleven years later, they found the bones of Narvaez' horses. They named the river mouth, Bay of Horses.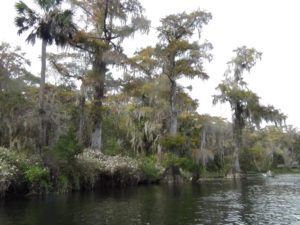 In 1679, the first in a series of forts were built at the confluence of Wakulla and St. Marks Rivers (our takeout site on this trip). This first structure was relatively weak—made only from logs. To give it the appearance of strength, the Spanish soldiers building it coated the logs to make it look like stone. The ruse didn't work on a band of pirates who sacked and burned the fort three years after construction (this was the same band of rogues who raided Paynes Prairie about the same time).
In 1739, construction began on a stone fort. But because of St. Marks' remoteness, supplies and labor were slow in arriving and the project was drawn out for many years. By the time the fort was handed over to the British, in 1763, it was only half complete. While none were very large, the series of forts on this site saw some pivotal moments in Florida history.
William Augustus Bowles captured the fort in 1800 as part of his scheme to unify a Creek Indian Nation, (with himself at the helm). Andrew Jackson also captured the fort in his controversial raid into Spanish Florida in 1818. He surrendered the fort back to the Spanish, but not before executing a couple of British Indian sympathizers.
In 1839, with Florida now a Territory of the United States, a federal marine hospital was built nearby, using stones from the abandoned fort. The fort's final term of service came during the Civil war. When Confederate soldiers occupied it in 1861, they renamed it Ft. Ward. The fort didn't get much use however, as Union ships blockaded the river mouth from 1861 to 1865. Today, you can walk among the ruins and see elements of all of the fort's many incarnations.
This is a very easy-flowing river (and we always go at a easy-flowing pace), this tour is great for beginners and seasoned paddlers alike.