Group size: 1 – 24 paddlers
Trip time: 3 – 4 hours
Skill level: Great for beginners and experts alike
The meet

ing place for this trip is on the Suwannee, about 1.5 hours NW of Gainesville.
On this trip, we'll explore a 9 mile stretch of the Middle Suwannee, starting at one of my favorite spots on the river, Charles Spring and ending about 3.5 hours later at the boat ramp alongside the Hwy 51 Bridge. Along our route, we'll stop off at Allen Mill Pond spring run and Lafayette Blue Springs. (to avoid confusion, it's customary to include the county name when referring to any of the State's many "Blue Springs").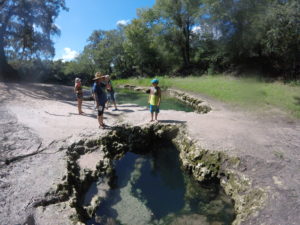 Most of the middle Suwannee is characterized by a wide, slow flow of tannin-stained water, whose rich, carmel color contrasts beautifully with white sand beaches. In places, the soft, smooth complexion on these dunes is interrupted by outcroppings of rough-hewn limerock. Above the river bank and stretching unseen for miles in all directions, a mixed forests of pine and oak dominate the setting. It's a higher, drier terrain than we experience on "swampier" rivers such as Ocklawaha and Withlacoochee.
Of course, the main attraction to this part of the river are the springs. On warm days like we've been enjoying lately, the clear, 72 degree water of Charles and Blue Springs are hard to resist. But, you won't have to wait for the springs if you want to swim. Current water levels are low enough to make plenty of good, shallow areas to pull over and wade in.
Our launch site for this trip is Charles Spring, one of the most history-rich spots along the entire Suwannee River. Archaeological evidence shows a rich, native heritage in this area, long before European explorers ever set foot in the New World. The recorded history of this spring starts with the very first explorers in north Florida – Hernando De Soto and his army of conquistadores – who crossed here and referred to the Suwannee as the River of Deer. In later centuries, an important Spanish mission was built here to guard and operate the ferry crossing for the Mission Trail. In the 1800's, it was the site of a steamboat landing; and eventually the homesite for one of Florida's most famous pioneer couple, Rubin and Rebecca Charles.
It won't be long before this section of the Suwannee is teaming with huge sturgeon fish, whose unexplained habit of jumping high out of the water, brings a wonderful element of excitement and curiosity to boating on the river in summer. In recent years, there have even been a few incidents of leaping sturgeon and passing motor boats having a close encounter of the worst kind. There have been some injuries but no deaths. (I should mention that there are no accounts of this happening to a paddler – probably because we go slow enough for the sturgeon to easily avoid us). The main season for this is in summer, but we may see some of the early arrivals on this trip.
In general, we see less wildlife on this part of the Suwannee than we are used to seeing on some of our other trips. Wading birds prefer shallower, marshier waters while upland species such as perching birds, woodpeckers and raptors are harder to spot in forest set so far back from the water.
Other animals that live along this section of the Suwannee include such upland species as deer, squirrels and wild hog. Beavers live here too. For those who are interested, we'll take a brief hike and check out an active beaver lodge.  
The width of this section makes it very open and sunny. On breezy days, the open channel doesn't offer much of a wind break, so it can make for harder paddling.