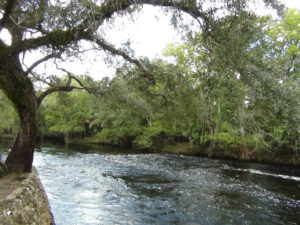 Steinhatchee River kayak & canoe Tour
Group size: 1 – 24 people
Trip time: 3.5  – 4 hours
Skill level: Beginner – Expert. (This is an easy paddle on slow, tannin-stained waters. The open waters of the last mile can get choppy in wind, but that section is relatively close to our take-out site
Cost: $50 per person ($39 for "wanna go" members). With your own boat it's $40 ($29 for members).
Description

This is a 5 mile trip which usually takes us about 3 hours to paddle. We will be going down stream (WITH the current) for the whole trip.
Steinhatchee River doesn't get much press. And for the local residents who make their living harvesting the incredible bounty of these waters, that's just fine. On those rare occasions when this remote little river is mentioned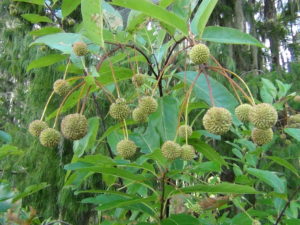 in Florida's "big city" newspapers, it's usually in reference to seafood or those who catch it. No surprise there. With lush, inshore grass beds, teaming with fat, blue-eyed scallops and juvenile fish, along with excellent offshore fishing sites, Steinhatchee is becoming a Mecca for commercial and sports fishermen alike.
Upstream from most of the boat activity, inland from the small, sister communities of Jena and Steinhatchee at the river's mouth, there is another, lesser known Steinhatchee. Like several of the other Gulf area rivers we explore (such as Waccasassa and Wekiva), Steinhatchee is a mongrel with mixed parentage. Her most distal headwaters begin in a couple of huge wetlands, Mallory Swamp and San Pedro Bay. After meandering through the swamps for nearly twenty miles, a network of braided channels slowly take form and finally merge into a single channel. A few miles north of Hwy 19/98 it picks up a bit of artesian spring water, compliments of a couple of meager springs, Steinhatchee and Iron.
This part of the river is completely shaded by a closed canopy of oaks, hickory, ash and pine. Two miles after crossing under Hwy 19/98, the river spills over Steinhatchee Falls. This is where our trip begins – BELOW the Falls. If you've ever dreamed of plunging over a water fall in a barrel, Steinhatchee Falls might be the place for you. This place has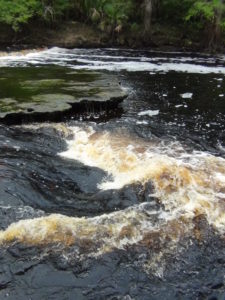 just about everything a daredevil could want. A nice county park with ample parking for media crews, overlooks the chasm. A rocky, limestone bottom enhances the 'danger' element of feat. And, your PR team should get plenty of mileage out of the fact that Steinhatchee is a Seminole word meaning 'dead man's river'. Perhaps the best thing, is that the 'falls' are only a couple of feet high. This will keep your 'hang time' to a minimum and allow you to slog out of the drink and into the media frenzy before you can say "did anybody put film in the cam…"
NOTE: We do NOT actually go over the Falls. We start below them! It has come to my attention, that some people thought the above paragraph actually described an element of our trip. I'm now left wondering how many of you have avoided this trip because you were nervous about going over the Falls in a barrel. Come to think of it, it does sound fun … hmmmm.
Actually, I mention the Falls because they are interesting in almost all water levels and to highlight the fact that this trip offers a scenic study of Florida's gulf coast geology. In certain conditions, small springs seep from the low, limestone bluffs that flank much of the river. While, the river bed itself is a solid course of limestone, as well. In shallow areas and/or low tides, these rocky shoals give us a fun, quick ride while, in other places, they create very dramatic features such as oddly shaped boulders and strange, Swiss cheese 'moonscapes' of solution holes. In low water, these pass just inches below our boats.
As we make our way downstream toward the town of Steinhatchee, the canopy remains mostly closed, with just a spattering of sunlight filtering through. Much of this stretch is tidally influenced, so we are treated to a nice t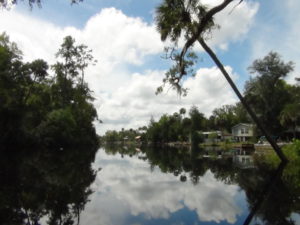 ransition as the river enters the realm of inter-tidal creatures such as fiddler crabs. In the last mile of our trip, the river widens dramatically to nearly 100 yards and the shaded river forest gives way to open marshes and mixed pine/bay forests.
The interesting geology is perhaps the most unique thing about the Steinhatchee. It's remoteness makes this a relatively uninhabited area, especially in the upper portion, even though the ground is high and dry enough for human habitation. In the last couple of miles, we see many more houses as we approach the town and take-out site. Beavers, whose range currently does not extend south of the Suwannee river basin, have a very obvious presence here, including a well-built dam that is easily seen from the river.
This is an easy downstream paddle which usually takes around 3.5 – 4 hrs.