Group size: 1 – 24 people
Trip time: 2.5 – 3 hours
Skill level: Beginner – Expert
Cost:  $50 per person. With your own boat it's $35.
NOTE
 – There are additional park/launch fees of $6 – $10 (varies depending on how many people are in your vehicle. The more people per vehicle, the less your fees).
This river is about 1 hour south of Gainesville, 1.5 hours from Orlando and 1.5 hours from Tampa.
As we set off on this 2.5 hour, downstream-only paddle, we first enter onto the river's large head-spring, the well-named Mammoth Spring. Heading downstream, the first mile of the river carries us past a series of other substantial springs that feed more clear, artesian water from small spring coves along either side.
The channel here is 30 – 40 ft wide and flanked by an unbroken panorama of cypress, ash, gum, red maple and an assortment of other trees and plants. These are an important part of the great Ocklawaha river basin, which this river joins after its 5.5 mile run (just beyond our take-out site).
There are always many water birds, especially near the head spring. Turtles, gators and and other reptiles always keep things interesting, as do my personal favorites, the river otters. The quiet paddler with a searching eye will usually spot one of these stealthy hunters on about 3/4 of our trips.
The most popular animals on Silver River are the Rhesus monkeys  (actually macaques – see below). Even though exotic species are never welcome in natural habitats, its hard not to enjoy watching these interesting, amusing Asian/African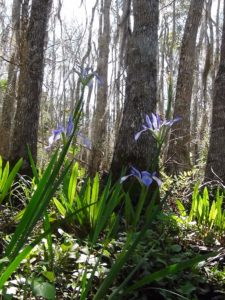 primates. It's not their fault they wound up in the forests of central Florida. But be very careful and never approach them. They can be aggressive and have a wicked bite.
Our 
launch site will be
 near 
the river's water source, the Silver Springs group. The main vent–Mammoth Spring–is one of the largest springs (in average flow rate) in the world. This area is within Silver Springs State Park. The main river channel within the park is a public waterway, with free access to all. Please be very respectful to other boats by staying off to the side when they pass. We want all visitors–paddlers and tour boat passengers alike–to have a positive experience when they explore Florida's beautiful waterways. It looks bad for everyone when there is friction between boat operators.
Perhaps the main thing that sets Silver River apart from other waterways is it's water. Crystal clear and relatively deep (averaging about 6 – 8 feet, with a few much deeper holes), few waterways rival this one for sheer beauty of its water.
Likewise, few waterways can match the diversity and numbers of species that you find on Silver. Put down your paddle and float with the current  (save this for the downstream part of the trip!) and you'll soon find crowds of small fish (mostly of the sunfish clan) drifting along in the shade of your boat. Feel free to bring swim-wear and snorkeling gear if you think you might be inclined to jump in and meet the river inhabitants face to mask.
The most popular animals on this trip, and the most unusual for any of our trips, are the monkeys. Earlier in this century a number of Rhesus monkeys escaped into the wild from Silver Springs Park. The most prevalent story is that they escaped from sets of the old Tarzan movies which were filmed near the springs. But, in reality, their presence can be credited to (blamed on?) Col. Tooey, a concessionaire at Silver Springs park in the 1930's. To add some tropical flavor to his "jungle cruise," he released some of the monkeys on a small island in the middle of the river. He didn't realize they could swim. Today, they are well established in the bottomland forest along the Silver and a bit of the Ocklawaha Rivers.
If you do see any (I'd say about 4 out of 5 paddlers will spot at least one), be sure to keep a safe distance – and DON'T FEED them. They are fun to
watch, but they can be aggressive and will bite if you get too close.
This is now an easy one-way, downstream-only paddle of about 2.5 (3 hours if you do a lot of poking around and taking in the natural wonders–large and small–that line every inch of the run.) (Note: we encourage slow poking. Such beauty should be savored!).
The canopy is open for the first mile, so that first section can be a bit of a workout on a windy day. But, if that's the case, we can avoid most of that section by taking side-channels. Below that section, the remaining 4 miles of the river has a relatively closed canopy that keeps the wind away.