Santa Fe River: Spring-hopping Kayak (& Canoe) Tour
Group size: 1 – 24 paddlers
Trip time: 3 – 4 hours
Skill level: Great for beginners (and enjoyed by experienced paddlers too)

Cost
Most guided tours are $50 per person. (includes boat, paddle, vest, shuttling and your guide)
Using your Own Boat – $40. (many paddlers with their own boats like to join us to learn more about the history, archaeology and natural history of these rivers).
Dates
Join a scheduled tour (see tour calendar ), or suggest one.  Find a free date on the calendar and suggest the trip of your choice. If there are no conflicts, we'll post it!
OR
Schedule a private tour. Use contact form, email us at [email protected] or call (386-454-0611)
Location
Check the River Locator Map or Click the link below for a local map and then use zoom and panning arrows to explore the area. (Note: the marker is NOT our meeting place, but a nearby landmark.
Local Map
Description
Running through the heart of Florida's famous "spring region," the Santa Fe river is a true gem of wild Florida. The upper half of this 75-mile river is a small, winding creek that often dries in low water periods. It's an interesting area,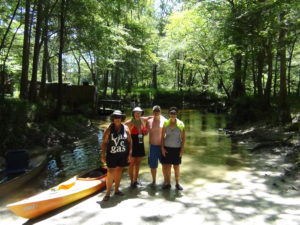 but one which requires a guide to get to the good parts. But half way down, just above the quaint little town of High Springs, the river changes dramatically.
At O'leno State Park the river disappears into an underground cavern. When it reemerges from the depths, three miles away, it is a dramatically different river. Having joined with an underground river of crystal clear spring water, the reborn Santa Fe is nearly twice as big as it was when it "went below." For the remaining 30 miles, the Santa Fe winds through a beautiful landscape with abundant wildlife, lush vegetation and, of course, the springs. There are dozens of them, some are small and hard to spot, while others arise from the riverbed and will go unnoticed unless you're snorkeling. It's not until you get about 3 miles below "the Rise" that you'll find the first big one's, Hornsby Spring on the left and, a half mile further, Columbia spring on the right.
Five miles more brings you to Poe Spring. The county owned park surrounding the spring and flanking nearly a mile of river front, has a short hiking trail and other facilities. From here you'll start passing a spring ever half hour or so. And, like their names, they are unusual and interesting. Lily – where you'll meet "naked Ed," the resident caretaker who has lived in a little thatch hut alongside the spring for nearly 20 years. As his name implies Ed only slips into his fur loin cloth when he has visitors. Otherwise he prefers to hang out (pun intended) as nekkid as the day he was born. No trip on the Santa Fe is complete without a visit with Ed.
Continuing downstream you'll pass Rum Island Spring, the beautiful Blue Spring before coming to the famous Ginnie Springs Park. This is the home to Devil's Ear, Devil's Eye, Ginnie, Dogwood and Twin Springs.
Along it's meander towards it's union with Suwannee River, Santa Fe loses water by way of siphons (underwater cracks which drain the water into underground channels of the aquifer) and gains
water by way of springs (which bring water up to the surface from the aquifer). By the time it has passed the Ginnie Springs group, the river has gained more water from the springs than it has lost from siphons and is moving at a quicker pace.
During average to low water periods, this part of the river takes on a clearer, more spring-like quality. The current becomes stronger too, allowing the paddler to divert his attention away from the task of propelling his craft and check out the surroundings. Some features, such as Big Awesome siphon and Myrtle's Fissure require a curious spirit and watchful eye to spot. Others, like Little Awesome siphon are apparent to even the most unobservant passers-by.
Wildlife
Of all the rivers in north Florida, there is perhaps none with the fantastic population of turtles that you'll see on the Santa Fe. Most common are peninsular cooters, Suwannee cooters, red-bellied turtles and chicken turtles. Occasionally you might also see a Florida snapping turtle. Stand at the edge of a clear spring and watch the bottom for a few minutes and you are likely to notice some of the small, dark objects starting to move. These are musk turtles. They love to stalk the white, sandy bottom of the springs. But once in a while, if you are very observant, you might spot one in a riverside bush! These little guys are surprisingly good climbers and sometimes clamber a couple of feet above the water on a slender branch.
There are plenty of otters in the river. Keep a good eye out for them near Columbia Spring and up toward River Rise.
As with so much of Florida, feral hogs are well established. Campers near the Santa Fe River Park, will usually spend much of the night listening to these 'piney rooters' churning up the landscape around their campsite.
Of course, the animal everyone wants to know about are the alligators. While some visiting tourists are eager to see gators on their paddle trip, most people are happy to know that Santa Fe River has fewer alligators than almost any river in North Florida. The only river with fewer gators in our area is Ichetucknee (where I haven't seen a gator in over 10 years–and I paddle it frequently).
Cooters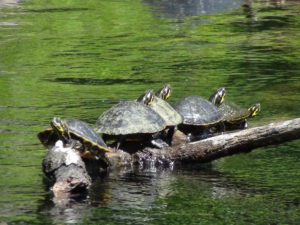 The term cooter refers to several species of turtles of the Pseudemys genus. Most of the turtles you see basking in north Florida rivers are of this genus. The name comes from kuta, which in some African dialects means turtle. African slaves in Florida relished eating these turtles (as do many country folk today). They are very aquatic turtles, but are also occasionally seen far from water as they move between bodies of water. When courting, a male swims backwards in front the female tickling her cheeks with long claws on the inside of his front legs. As eggs develop in her body, the female must bask in the sun to bring her body temperature up to a certain level for eggs to develop properly. It is therefore very important to avoid scaring them off their log when basking in the spring.
Difficulty
Santa Fe, like all Florida rivers, flows at an easy pace of about 2 mph. It is wide enough that fallen trees and other obstacles are never an issue. In extremely low water, a few rocky shoals (shallow areas) become more exposed and require a short pull-over. These conditions are uncommon.