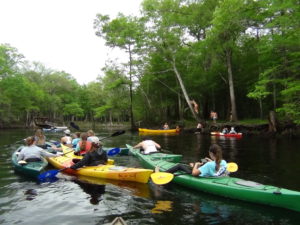 Every day of the week (except Tuesdays), we offer unguided kayak and canoe trips on Santa Fe River. We also outfit kayak and canoe trips on Ichetucknee River on most week days, between Labor Day and through the fall, winter and spring until Memorial Day Weekend.
These unguided trips include boat rental, paddle, vest, and shuttling. All you have to do is show up and we'll sign you up and put you on the river.
Our rental fleet includes a full line of single kayaks, tandem (2-person) kayaks and 2-person canoes. Most of our kayaks are sit-inside models (the most popular typed for inland rivers), but we also have sit-inside kayaks (singles and tandems). And if you prefer to take your river standing, we have SUP's (aka – stand-up paddleboards)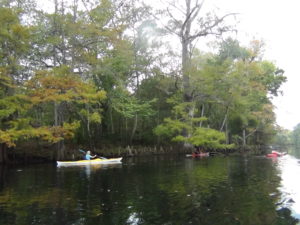 No reservations necessary.  Wherever you are, whatever you're doing, if you get a wild hair to go paddling, just turn your car around and head our way. You don't need a reservation. However, we strongly suggest that you call before you come. Some days our boats might be all rented out or we might be slammed with a large group, so we don't want you to make the drive for nothing. So please, do yourself (and us) a favor and call us at (386) 454-0611 and let us know you're coming and what time you expect to arrive. It will also help if you can tell us how many boats (and what kind) you'll need.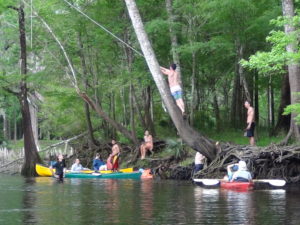 For more information about kayak and canoe rentals, shuttling and unguided paddling on Santa Fe River (including prices and paddle times) please go to the "Unguided river trips" page.