Homosassa River Kayak (& Canoe) Tour
Group size: 1 – 24
Trip time: 3-3.5 hours
Skill level: Beginner – pro. The open channel can become a bit challenging
when the wind kicks up. Otherwise, it's a breeze )
Cost
Most guided tours are $50 per person. (includes boat, paddle, vest, shuttling and your guide)
Using your Own Boat – $40. (many paddlers with their own boats like to join us to learn more about the history, archaeology and natural history of these rivers).
Dates
Join a scheduled tour (see tour calendar ), or suggest one.  Find a free date on the calendar and suggest the trip of your choice. If there are no conflicts, we'll post it!
OR
Schedule a private tour. Use contact form, email us at [email protected] or call (386-454-0611)
Location
Check the River Locator Map or Click the link below for a local map and then use zoom and panning arrows to explore the area. (Note: the marker is NOT our meeting place, but a nearby landmark.
Local Map
Description
The route of this trip depends on the time of year. Winter excursions on the Homosassa are all about manatees, and since they always head for the head-springs, so do we. This makes for a round trip paddle, upstream and back. It's a nice stretch of river, but very developed–especially on the north bank. But, where the Lady (Mother Nature) maintains her ancestral claim, a lush, semi-tropical forest crowds the shoreline. The main head-spring is within Homosassa State Park and out of bounds for us. But we do get close and usually see plenty of manatees.
Our summer excursions on the Homosassa take us in the other direction, heading westward toward the Gulf of Mexico (although we usually don't go that far). We weave a circuitous route through marshes, tidal streams and around several islands. This is very open waters, especially on the main river channel.
Wildlife
With it's close proximity to the Gulf of Mexico, the Homosassa area is rich in bird life. During the winter, the numbers are bolstered by an influx of many ducks, loons, white pelicans and other migrants.
Dolphins are occasionally seen, but not as often as in nearby Crystal River. And of course, there are the manatees. During the winter, Homosassa springs constant 72 degree waters attract the warm-blooded manatees who become stressed and can die if water temperatures remain in the mid-60's for any length of time.
Pelicans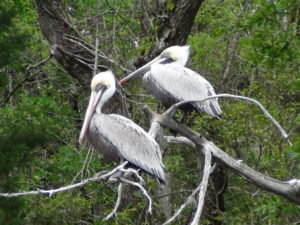 Pelecanus occidentalis
The name is derived from pelekus, the Greek word for "axe," in reference to its large bill. They used to be called alcatraz, derived from the Arabic al-qudus, meaning "bucket." You can tell the age of young pelicans by their color. In their first year, they have white bellies and dark brown backs and wings. In the second year it's more uniform grayish-brown all over. In the third year they develop adult colors of dark belly, white neck and light grey wings. When diving into water after fish, they inflate air sacks in the chest to cushion the impact. Their bills can hold 3 gallons of water.
History
Of all the GOMER (Gulf of Mexico region) spring rivers, Homosassa has perhaps the most colorful documented history. While Crystal River was ground zero for much of the pre-Columbian activity in the region, Homosassa became a focal point of early white settlement.
Much of the early activity can be attributed to one man, David Levy Yulee, who chose Homosassa River as home base for his sugar plantation and mill. Yulee was an interesting and important figure in early Florida history, who was a legislator during the Territorial days and then became the State's first U.S. Senator when Florida achieved statehood in 1845.
His 5,100 acre plantation and sugar production at Homosassa began in 1851 and was thriving at the onset of the Civil War – perhaps too much so. In May of 1864, a Union naval vessel threaded it's way up the river and attacked Yulee's mansion on Tiger Tail island. The home was destroyed and his plantation crippled. The extent of damage done to the mill is still debated, but much of the structure remained intact. Today, these are the only existing remains of an antebellum sugar mill to be found in the U.S. and are part of a Historic Site which you can see along SR 490 as you drive in toward town from Hwy 19.