Crystal River Canoe and Kayak trips
Group size: 1 – 24 people
Trip length: 3 – 4 hours
Skill level: Beginner – expert (great for kids!)
Cost
Most guided tours are $50 per person. (includes boat, paddle, vest, shuttling and your guide)
Using your Own Boat – $40. (many paddlers with their own boats like to join us to learn more about the history, archaeology and natural history of these rivers).
Dates
Join a scheduled tour (see tour calendar ), or suggest one.  Find a free date on the calendar and suggest the trip of your choice. If there are no conflicts, we'll post it!
OR
Schedule a private tour. Use contact form, email us at [email protected] or call (386-454-0611)
Location
Check the River Locator Map or Click the link below for a local map and then use zoom and panning arrows to explore the area. (Note: the marker is NOT our meeting place, but a nearby landmark.
Local Map
Description
On this trip, we explore Kings Bay, the headwaters of Crystal river. This is the winter home of over 300 manatees, making it one of the most important refuges for these amazing, endangered mammals. In addition to the manatees, there's a world of exploring opportunities in this beautiful bay. Over thirty crystal clear, artesian springs are scattered about the bay, while on shore, Indian village sites and mounds lie hidden among the tangle of sub-tropical vegetation.
The most notable of these lies a short two miles downstream of the area we paddle. Here, overlooking the river from a low bluff, sits an amazing complex of temple mounds. Today, this site is known as the Crystal River State Archaeological Site, but for nearly 1600 years, Florida natives called it home. According to archaeologists, this is the longest continuous occupation of any site in Florida. (For comparison, it's only been 500 years since Columbus and a couple of boatloads of Europeans found this New World!) Ironically, the natives abandoned this site just a few generations earlier, probably in the early 1400's. Many visitors round out their day of exploring Crystal River with a drive to this park where a fine interpretive center describes the various cultures that lived here. An easy, shaded trail takes you through the site where you can even climb to the top of the largest temple mound overlooking the river.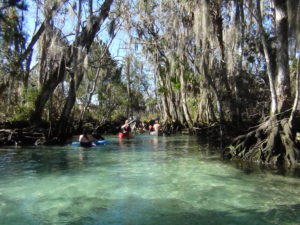 King's Bay is home to a fantastic array of animal species – finned, furred and feathered. With it's close proximity to the Gulf of Mexico – seven miles to the straight soaring eagle – the variety of birds is fantastic. Species that prefer the coast, including brown pelicans, gulls and terns, share the air-space with land-lubbers like warblers, orioles, cardinals, grackles, night herons, etc. Green herons, little blue herons and egrets work the shorelines of some of the smaller channels we explore. While on the open water, we might run into a group of white pelicans, working together in their unique feeding strategy in a quiet back marsh. And always … always, the vultures. Crystal River and vultures (both turkey and black) have a long history together. One of the islands we circumnavigate on our exploration is called Buzzard Island. And, be sure to watch those soaring flocks closely – bald eagles often run with that crowd.
Of course, the real stars of the show are the manatees. Every winter, as the waters in the Gulf of Mexico cool down, over 300 endangered manatees come into King's Bay, seeking out the relatively warm water that gushes from the 32 clear artesian springs that are the lifeblood of Crystal River. This is nearly 10% of the entire population of Florida manatees in existence.
Manatees
Any exploration of wild Florida holds the possibility of wonderful surprises. But few experiences compare to drifting over a huge manatee. These stone-gray mammals average ten feet in length and tip the scales at about 1200 pounds (the largest ones are over 13 feet long and weigh over 3000 lbs!). Being gentle herbivores with no common predators, they quietly go about the business of being manatees, giving little thought to passing kayaks(swimmers are a different matter – please don't swim with them). As air breathing mammals, they surface every few minutes for a breath of air, often pausing to gaze curiously into the eyes of their wide-eyed admirer. Occasionally, one will even roll over and rub its belly on the hull of your boat. We often see mothers with young, usually just one, but sometimes twins. They reach sexual maturity anywhere from 4 – 6 years of age and can be observed in the wild throes of manatee love at any time of year, though most breeding takes place in spring. They are known to reach over 50 years of age.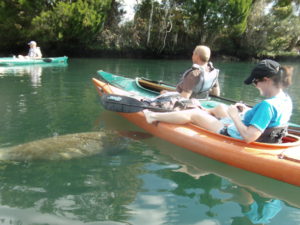 Highlights
Paddling among manatees is an experience that every animal lover should have. You would never imagine such large, wild animals could be so gentle and tolerant of humans. Sometimes they'll even roll over and rub their belly on the bottom of your boat. As we paddle between a collection of small islands, making our way from spring to spring, watching for manatees, we're treated to the company of hundreds of water birds, including pelicans, cormorants, herons (frequently night-herons) gulls and such. The only downside to this trip is that civilization is pressing hard against the shoreline around the east side of the bay, especially in the areas most frequented by the manatees. Needless to say, we make our way to the beautiful expansive marshes on bays west side as quick as irresistible manatee encounters allow.
Wildlife
By now, I guess it's obvious manatees are the stars of Crystal River. Each fall, as cool autumn weather sweeps into north Florida, manatees congregate at sites with relatively warm water. The 31 springs in Crystal River and King's Bay, fit the bill perfectly. But there are some other, less reliable stars such as bottle-nosed dolphins, who frequently make an appearance. Other animals we see include bald eagles, osprey herons, egrets, many pelicans and an occasional yellow-crowned night heron. This is also one of the few places where we occasionally see Canada Geese in the winter. You'll also see an wide assortment of fish, some which are usually thought of as solely salt water species. Mullet, needle fish, shad, grey snapper and even an occasional tarpon keep the waters alive under our boats.
History
On the north shore of King's Bay, a large temple mound and village site remain as monuments to the longest, continuously occupied site in Florida. This site, the Crystal River Archaeological Site, is several miles downstream from the area's we explore in our search for manatees, and few people have the energy to make the journey after paddling around King's Bay. A couple of the mounds are visible from the river, but you can't enter the park from the river. A good alternative is to round out your day with a drive to the Crystal River State Archaeological Site after our paddle. Admission is $2 per vehicle and includes admission to a very nice interpretive center.
Recent Trip Notes & Conditions
(Interesting sightings or notes? Please let us know and we'll post here)
*
Interlude
Some of my earliest introductions to the wildlife beyond Florida was Mutual of Omaha's Wild Kingdom TV show, hosted by Marlin Perkins (Marlin, if you're out there, I'll be watching for my product placement check in the mail). In fact, it was probably while watching Marlin send his trusted side-kick, Stan (or was it Jim?) to wrangle exotic man-eaters of every persuasion, that the seeds of a future river guide were planted.
Some of the program's most memorable scenes showed how deserts are reborn when the rains come after a prolonged drought. The scene opens with Marlin firmly wedged in some desert shrubbery, only the snout of his binoculars protruding from the foliage. Whispering enthusiastically, Marlin would describe the animals gathered at the watering hole, and the life-and-death struggles they endured. Then, after describing some particularly deadly creature, he'd send in Jim (or was it Stan) to annoy it. The segment would then conclude with Uncle Marlin giving some finely crafted segue into the wisdom of having insurance – "as Jim scrambles across the savanna, with the angry lion close on his heels, he's probably wishing he had more protection. Speaking of protection, here at Mutual of Omaha…"
All-in-all, I have to give the Wild Kingdom show credit for giving me some valuable life lessons. For instance, I now know that wildlife loves when the rains come, so I often go to recently dried-out areas after it rains to see what's stirring. I also learned that insurance people are truly awesome creature, who can wrestle lions and run like gazelles when things don't work out as planned. So, I avoid them altogether.
*